DESMOND CHOW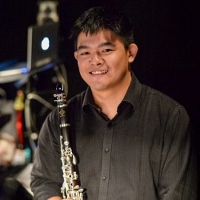 Desmond started playing the clarinet at the age of 13 when he joined the St Patrick's School Military Band.

He went on to further his studies at the Nanyang Academy of Fine Arts to pursue his Diploma in Music, and was subsequently awarded a full scholarship for the BA in Music Course, which he graduated with Honors. His teachers include Ma Yue and Tang Xiaoping from the Singapore Symphony Orchestra.

Desmond is currently a member of The Philharmonic Winds, Metropolitan Festival Orchestra and Clarinet Concord. He has freelanced with the Singapore Symphony Orchestra, National Symphony Orchestra of Malaysia and does regular concerts with the Singapore Lyric Opera Orchestra since 2009.

He is a highly sought after performer in musicals and has been involved in the productions of Cabaret (2006), The Phantom of the Opera (2007, 2013), My Fair Lady (2014), The Sound of Music (2015) and The LKY Musical (2016) to name a few. He has also performed with international singers Aska (2008), Andrea Bocelli (2010), Russell Watson (2010), Katherine Jenkins (2011) and Sarah Brightman (2012).

Desmond is an active chamber musician performing on Clarinet, Bass Clarinet and Baritone Saxophone and also an experienced music educator.

---