RICHARD PNG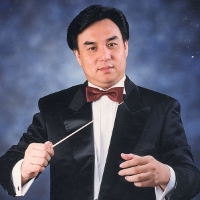 Richard has been a band director since 1986, with 29 years of teaching experience. Beginning conducting for SYF Band Competition in 1982, Richard won a Gold Medallion for his alma mater, Raffles Junior College. Thereafter he has conducted bands from Polytechnics, Junior Colleges and Secondary/ Primary Schools in local performances, competitions and overseas, winning accolades and honours.

As a performer, Richard play all wind and percussion instruments but principal on the clarinet. He has performed with National Institute of Education Symphonic Band, National University of Singapore Orchestra, Singapore Teachers Band, and currently, Singapore Wind Symphony in which he is the Concert Master and a member of the Board of Directors. He is a member of the Band Directors' Association (Singapore) as an Assistant Secretary, World Association of Symphonic Band and Ensemble (WASBE), Asia Pacific Band Directors Association (APBDA), International Society of Music Educators (ISME), International Clarinet Association (ICA) and International Association of Jazz Educators (IAJE).

Richard graduated from National Institute of Education, Singapore (NIE/NTU) with a Specialist Diploma in Band Directing (with Distinctions) and Diploma of Performance from Associated Board of the Royal Schools of Music, Jazz Performance Certificate from GuildHall (UK) and brass and percussion certificates from ABRSM. He won the Hedy King Robinson's Award(UK) for Music Theory, and was conferred State Honour and Degree, Yang Amat Mulia Ahli Bintang Sarawak Kehormat, ABS(Hons) in Malaysia.

As a composer and arranger, Richard has written more than 50 works, of which three, namely "881 Medley", "Forever Yours for Solo Trombone" and "Mai Pen Rai (Chang and Eng)" were commissioned and featured by Singapore Wind Symphony with Dick Lee. Published works including "Stand Up for Singapore" has also being performed and recorded by Florida University Band, conducted by Dr Waybright. Richard has guest conducted Chinese orchestra and choirs and adjudicate music competitions.

---