STANLEY SIM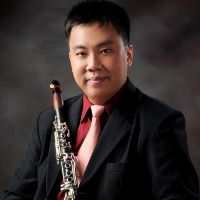 Stanley Sim started playing the clarinet during his secondary school days in Yishun Town Secondary school.

After he completed his academic studies in Nanyang Polytechnic, he was enlisted into national service and was sent to Singapore Armed Forces Central Band.

During his national service period, he signed on as a regular and started off his clarinet career.

During the pledge of his service for the SAF band, he took clarinet lessons under Mr Vincent Goh(ex-SSO clarinetist) and later, Mr Ma Yue(current SSO principal clarinetist).He has also taken masterclasses with Ms Janet Hilton (ex Royal College of Music, Head of Woodwind), Andrew Simon and Mr Charles Neidrich when they were in Singapore. As a clarinetist in the SAF Central Band, he had the honour to work with various famous composers and conductors that came to Singapore to conduct the Army Band.They include Hardy Mertens, Eric Whitacre, Frank Ticheli, James Barnes, James Keene, Tim Reynish, Douglas Bostock and "The President's Own" Marine Band's conductor with their Principal players

Having obtained an LTCL in Clarinet recital, Stanley has been teaching and giving masterclasses among schools and private students for 10 over years.He was sent to Brunei to give masterclass to the Brunei Royal Army Band's woodwind section by the SAF central Band. He was call upon by KLPAC to give masterclass to the young clarinetists in Malaysia. He has also taken up the job of teaching the NCO Camp's student clarinetists organised by the Ministry of Education in the past and masterclasses organised by the WBAS band festival. Stanley is currently the Concert Master and Principal clarinetist of the SAF Central Band.

---