TANG XIAO PING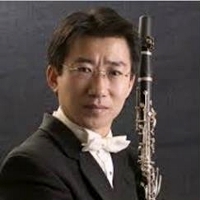 Tang Xiao Ping started learning the Clarinet at aged nine, under the tutelage of Professor Tao Chun Xiao at the China Conservatory of Music in 1983. He won a prize in the first season of the Beijing Clarinet Youth Festival Competition in 1985. He was accepted into Central Opera Symphony Orchestra as their Principal Clarinetist upon graduation.

In 1994, Tang Xiao Ping was accepted into Boston Conservatory of Music to study under the tutelage of Dr. Ethan Sloane. He held the position of Principal Clarinetist in the conservatory orchestra. While studying there, Tang Xiao Ping received the "Outstanding Student Scholarship" and won the "Dean Scholarship" from the conservatory.

The following year, Tang Xiao Ping joined the Singapore Symphony Orchestra and successfully performed Mozart's "Clarinet Concerto in A Major".

A well accomplished and widely recognized musician, Tang Xiao Ping was invited to perform in the "International Chinese New Year Festival" in Shanghai in 2006 and the Beijing Opera House in 2009. In Singapore, he has participated in various Singapore Arts Festivals as soloist with the ensembles and orchestras.

Tang Xiao Ping has worked with many orchestras from around the world such as the Malaysian Philharmonic Orchestra and the Macau Orchestra. This year, he was specially invited by the Harbin Symphony Orchestra to work with renowned conductor, Rylor Vladimir to perform as a soloist, Carl Von Weber's "Clarinet Concertino" and Franz Krommer's "Double Clarinet Concerto in Eb Major".

Aside from performing, Tang Xiao Ping is a very passionate and enthusiastic teacher who has helped groomed many generation of musician in Singapore and worldwide. He is often invited to hold masterclasses in Singapore and overseas music conservatories.

Currently, Tang Xiao Ping assumed the role of Clarinet and Saxophone teaching in Singapore National Youth Orchestra and Nanyang Academy of Fine Arts, School of Music.

---